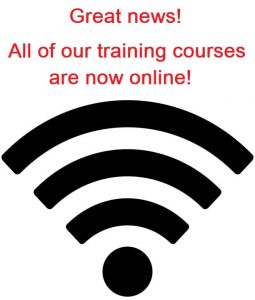 Why lose valuable hours taking yourself or your team off-site for a working day when so much can be completed without leaving your home/office?
With Cherry Picker's Online Training platform, the theory aspects of our courses can be completed entirely online, allowing the candidate to login and logout over a number of sessions at their own ease without the need to be taken off-site. Short practical assessments can be completed at Cherry Picker's site or over Zoom.
Call us on 0818 228 229 or email training@cherrypicker.ie for more information.
In the case of our MEWP Training and Safety Harness Training, the theory portion of the course can be fully completed and assessed online. The candidate can then book in for a brief practical assessment at Cherry Picker's Training Centre (Kilmoon Cross, Ashbourne, Co. Meath - A84 FY76) at a time that works for them. It couldn't be any easier!
Are you already in the process of completing one of our courses? Click here to proceed to our Online Training login page
The Benefits of Online Training
If a practical assessment is required once they have completed the course theory section online, candidates can book a brief (20-30min) assessment at Cherry Picker's site (evenings or weekends can be accommodated).
With our fantastic 'Save & Continue' feature, the candidate can also complete the Online Training in their own time, at their own pace, over a period of time that they are comfortable with.
Standard Practical Assessment Measures
Social distancing
Disinfection of universal contact points on machines (controls, basket opening/closing, etc.)
Digital documentation/payments
One-on-one assessment
Flexible scheduling of assessment times