Access Platform, Lifting Machinery, Fork Lift Service and Repairs
Cherry Picker have been Ireland's leading Service Department in the access industry since 1994. Specialising in access platforms, goods lifts and fork lifts, Cherry Picker's Service team, certify and repair all models of plant machinery as well as providing an extensive stock list of replacement parts, both new and used.
Based on the N2, just north of Ashbourne, Co. Meath, Cherry Picker's facility includes an extensive state of the art workshop, indoor/outdoor repair & testing areas, spray & refurbishing booth, overflow garages, parts storerooms, fleet storage and maintenance centre, Bespoke Design facility and Training Centre.
For more information,you can contact Rick at our Service desk on 01 835 4788, through service@cherrypicker.ie or by filling in the enquiry form at the bottom of this page.
GA1 Certification
Are your hoists certified?
Cherry Picker provides service/repairs and replacement parts for all makes and models of access machinery and lifting equipment (lifting tables/forklifts/teleporters).  Cherry Picker's Service team work with all makes and models of machine including Genie, Haulotte, Nifty Lift, JLG, UpRight, Snorkel, Faraone, Oil & Steel and PopUp. Our dedicated Cherry Picker Service Department has engineers on the road, providing access platform service across Ireland. The Health & Safety At Work regulations state that all aerial platforms (lifting people) must be serviced and GA1 certified twice yearly.
Our experienced engineers will carry out a 60 point check as part of the service and upon completion will issue the necessary certificate to ensure that you are in compliance with HSA requirements.
We also offer breakdown assistance, routine servicing or alternatively a service contract for 1, 2 or 3 years.
Contact service@cherrypicker.ie, call us on 01 835 4788 or use our quick enquiry form below.
Machine Refurbishing & Re-Spray Facility
Cherry Picker's state-of-the-art refurbishing and respray facility offers you the opportunity to have your older machines see a new lease of life!
As well as replacing any required parts as needed, our team will prep and respray your machine to have it looking as though it is fresh out of the factory once more.
Contact service@cherrypicker.ie, call us on 01 835 4788 or use our quick enquiry form below to find out how Cherry Picker's Service team can assist you.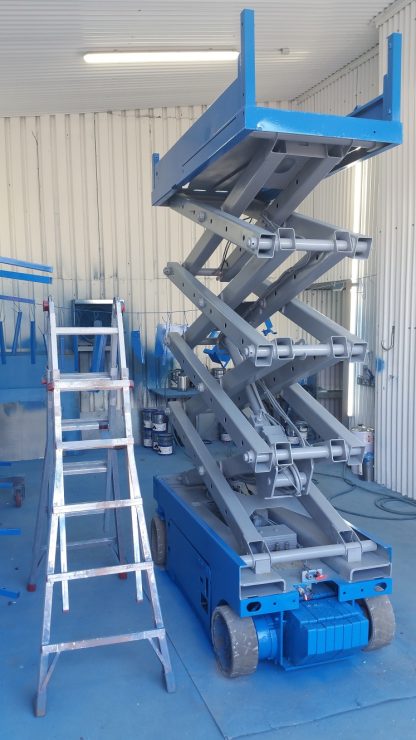 Our Carefully Selected Partners