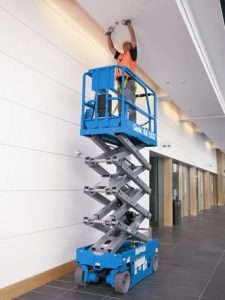 Irish health and safety regulations state that only temporary work should be carried out using a ladder, whereas many people using ladders at work are not necessarily only using them temporarily.
Ladders can pose a serious risk to both the user and anyone on the ground below them, while also adding time to the job due to the fact that flexibility is almost non-existent. Ladders are, however, convenient as they can be transported very easily in the back/on the roof of vans from job to job and they can be brought indoors very easily.
Consider using a battery scissor lift for your work at height.
More and more users are using these machines to carry out roof repairs, air conditioning maintenance, paint and steel work, as well as many other jobs that a ladder can be used for. There is just one huge difference: using a scissor lift is a very safe option and is significantly safer than a ladder or scaffold (and also doesn't require the setup time of a scaffolding system!).
The most common battery scissor lift for such work is a GS1932. This is a Genie model scissor lift with a maximum platform height of 19 foot and a width of 32 inches.
These units fit in between a standard industrial doorway of 35 inches and their battery operation make them perfectly acceptable for indoor driving. Furthermore, these scissor lifts come with a detachable pendant which allows its user to control the driving of the machine from inside the basket or while walking alongside it on the ground.
With a platform height of 19 foot, the industry standard working (reaching) height is approximately 26 foot and 2 individuals plus their tools can easily fit into the basket of these units. With a basket capacity of 227 kilograms, there is plenty of allowance in these units for 2 workers to carry out their duties on site.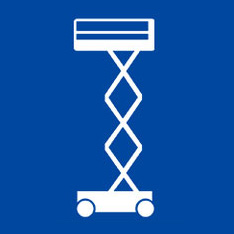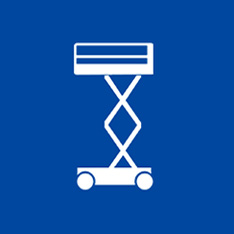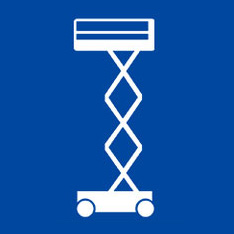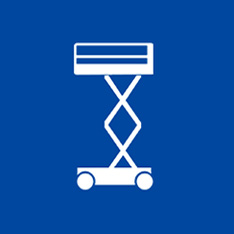 Where floor space on site is limited, these front-wheel-drive machines have a zero inside turning radius which gives the scissor lift excellent maneuverability while operating within tight spaces and crawl speed setting ensures a heightened safety while driving in busy environments. Also, the non-marking tyres of these units are particularly favoured by contractors who cannot risk damaging the floor surfaces of new builds.
As standard, these units come with a length of approximately 1.8 metres and the platforms are generally fitted with baskets that can extend the length by an additional 1 metre. As most self-propelled scissor lifts can drive while elevated, the user saves a significant amount of time as they can change their positioning while remaining at a height. This saves the need to stow the unit again before moving it forward once more. This is particularly time-efficient for those carrying out continuous work at the same height, but with gradual shifts in positioning required (for instance working on gutters, etc).
By far the most convenient and lightweight low-level access scissor lift available is a push-around scissor lift. Compared to the larger driveable scissor lifts, these units can weigh somewhere between 300-400 kilograms (as opposed to 1500 kilograms) and so can be transported in the back of a van quite easily and offloaded with a ramp. These units can also come narrow-enough to fit through a standard domestic doorway.
As they are lightweight, the units can be pushed into position, the user can then lock the wheels with their foot and then enter the basket. Once in the basket, the operator can generally achieve a working height of up to 15 feet. These smaller push-around scissor lifts are often used by painters, electricians and those frequently working with other areas of low-level access requirements.
The units discussed in this article come in all sorts of shapes and sizes but one thing is certain, the operator has much less downtime in their work and the environment is significantly safer for both themselves and for those on the ground.